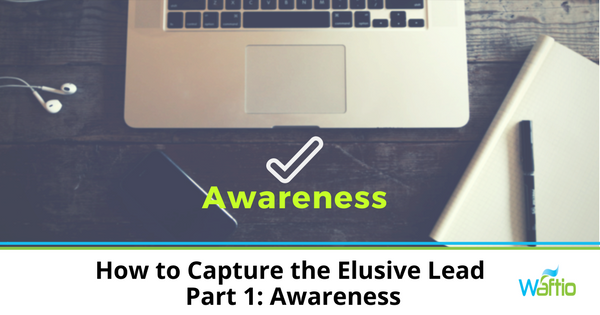 Are you on the hunt for the elusive lead? The prospect's journey from your first interaction to the conversion can take place through many channels and goes through 3 stages: awareness, engagement, and capture.
What is the Awareness Stage?
Your potential lead has a problem that they want to solve. However, they don't know much, if anything, about the solutions available, the relevant brands or how to choose the option that works best for their needs.
During this stage, the prospect is seeking out educational resources. They want to gain a better understanding so they can make an informed decision. You can start the lead capture process with a resource designed to give each visitor the information they need to move forward in the lead conversion process.
Channels to Use for Building Awareness
A mix of channels gives you the greatest opportunity to reach your intended audience with this informative content. When you put together your lead capture strategy, incorporate these channels into your plan.
Website
Your website can act as a content and resource hub for your educational assets. You can put together a resource library featuring guides, ebooks, videos, and tutorials.
Blog
A blog is an easy to set up channel that you can fill with helpful resources, topical information and curated content that's relevant to a prospect's needs. While the information may be similar to the resources available in your library, blogs tend to have a more informal approach. Blog posts also frequently have more visual content, so incorporate infographics, charts and other visuals into the content.
Social Posting
Social media sites give you access to a wide audience and help you build awareness. You can target relevant hashtags, participate in Twitter chats and promote your educational content.
Email
Email newsletters and e-courses help you reach prospects on mobile, as many people check their inboxes on their phones. You can deliver the right content to people in the awareness stage so they learn more about the way they can solve their pressing problems.
Forums and groups
Niche specific forums and groups give you a lot of access to your potential audience. By sharing relevant, valuable content in this channel, you improve your visibility, so prospects find you during the awareness stage.
Once you position yourself in the right places to attract potential leads at the beginning of their journey, you move on to the next step: Engagement.  Stay tuned for this in a next post!