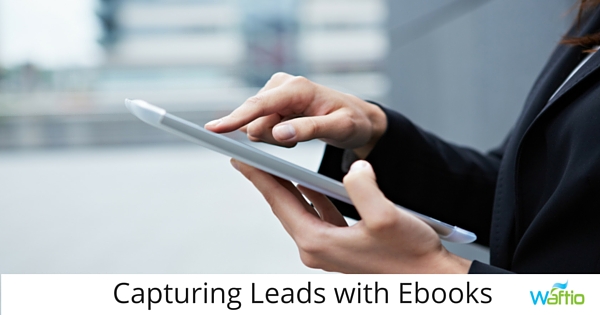 Perhaps the most often repeated phrase in online marketing is "content is king". But it's true; if your content isn't worthwhile, your visitors won't stick around.
The quality and originality of the content you present are vital to visitor retention, SEO, social media, branding, and marketing. Let's look at the benefits of putting your quality content into an eBook to generate leads.
eBooks are your chance to present in-depth information you can't squeeze into a blog post. eBooks should have a more formal tone than blog or web copywriting, it's like a mini-book. They're a good way to show your expertise and authority, and they work well as a soft lead capture tool.
For some people, the idea of writing a book might seem overwhelming, and an ebook is shorter! It can be done at minimal cost and in a variety of formats, like .pdf, or Kindle, and often with free tools. What are uses for eBooks?  Let's dive into a few…
1. Capture prospects from social media
Add a subscription form to your landing page and use social media posts to direct traffic to it.  On the page, use your eBook as a free opt-in offer. One advantage of social media is that it draws visitors who are curious about your topic, love to interact online, and will post comments or share good content with their friends.
Offering something informative like an eBook relevant to your business helps target those with real interest. Are you in social media?  Giving them the right Twitter hashtags or inviting the right Facebook groups to read your eBook is dangling bait for your target audience. With a quality eBook, you'll get positive responses that'll increase interest to a widening circle of visitors. There's no better advertising.
2. Use them to advertise
eBooks can be updated and reposted whenever you like – giving you the chance to promote the updates. eBooks can include links to your sales web pages or resources your audience might find interesting on your website. In your updates, include coupons or discounts available only to eBook readers, links to freebies readers will appreciate – or links to your next eBook. You could do follow-up eBooks essentially a user manual or promote your accessories. In short, you can do about any selling in an eBook that you can on a web page, and more in-depth. Just provide a link to your order page.
3. Use eBooks to gather information
The value of eBooks comes from the leads and sales they generate. You could charge money for your eBooks, that won't make them more valuable, but it will limit the number of people who read them. Gather useful information by inviting interested customers to a website where they must enter personal info, such as names, email addresses, and interests relating to your product or services, before getting the link to your eBook.
If you convey the impression that this is info they won't get anywhere else, they're more likely to give you their info. You'll build a targeted mailing list to use for future campaigns. Ask for professional or demographic information to help build a better picture of people most interested in what you have to offer.
An eBook doesn't have to be a hundred or even fifty pages of material. It just has to give prospects something they didn't know, and the opportunity to get/learn more. By creating quality eBooks geared toward marketing, you're creating a sales tool that exists forever in cyberspace and will continually generate leads for you.
Are you using eBook's effectively on your website for lead capture?  A simple Waftio form can be the lead capture solution you need to kick-off that next ebook marketing plan!