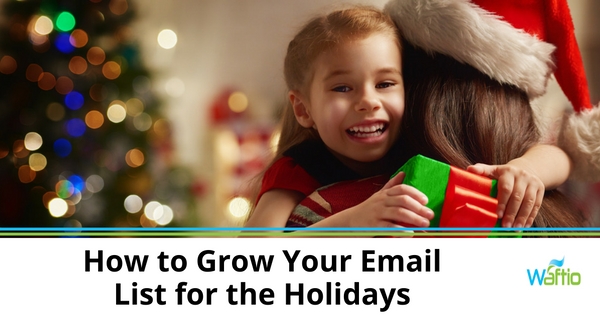 For most retailers, the holiday season is extremely important. In many cases, the uptick in sales may be the difference between success and failure for the entire year.  Is your online marketing ready?  Here are a few key ideas to help you improve this holiday season.
Expanding Your eMail List for the Holiday Season
Finding ways to add potential customers to your email list is a practical and relatively inexpensive way to reach customers with your targeted message. According to Hubspot.com, email lists tend to degrade by about 22.5% each year as people move, change email addresses or opt out. With this degree of attrition, you'll need to increase your list by 50% annually to increase your outreach.
So, with this in mind, your objective should be to increase your holiday email list and improve customer retention by planning interesting content to hold their attention.
Strategies to Gain Prospective Clients Through Email
Each new email customer opens the door to a new sale and the potential for long-term profitable engagement. Targeted emails allow you to focus your message to specific groups to entice them to visit your website or your brick-and-mortar store. But learning where you need to focus does require some interaction. Ways to attract email addresses and specific information about the prospect may come from a number of activities.
Trade Shows
Face-to-face is the best way to gather information. Encourage all potential customers to fill out a very short info form that includes an email address and a simple check of specific areas of interest.
Offer Giveaways
Conduct an online or in-store drawing to win a valuable gift. The customer fills in their email address and a bit of information regarding their preferences that allows for better targeting.
Frequent Buyer Program
Offer a discount on the next visit after the buyer has reached a certain threshold of spending. Application for the frequent buyer program should include an email address and information about specific interests.
Holiday Season Sign-up
Around mid-October, ask customers to sign up for your Holiday Special that gives them a percentage discount for all products purchased between Thanksgiving and New Year's Day. This signup should include email and other pertinent information.
New Products Roll-out
Offer discounts to the first 50 people who purchase a new product or service. You should sign these buyers into the Frequent Buyer Program for future information.
How to Retain Current and Future eMail Lists
Dress Up Your Website
Interactivity is the key to developing new business through your website. Any activity which causes the consumer to visit your website and remain is positive. Consider developing an ongoing educational blog for your visitors. It will provide useful information and entice a return visit, and a well-written article will demonstrate your depth of knowledge of the products or industry you represent. Blog posts should include an embedded email subscription form.
Online Contests
Include a contest on your website or social media. Each time an entrant wishes to participate, an email address must be given for the vote to count.
Webinars
Identify and develop webinar events to demonstrate specific products and services. An email address should be exchanged for a webinar "ticket".
Joint Promotions
Establishing a joint promotion with a nearby company can improve your image and produce additional email addresses.
eBooks
If you are feeling particularly creative, a useful and practical eBook offering tips regarding your industry or products can draw interest. For example, if you own a pet store, an eBook about puppy training would be a great incentive.
With the holiday season impacting a business's bottom line so heavily, it's always a good idea to step up your email marketing to bring people through the doors.