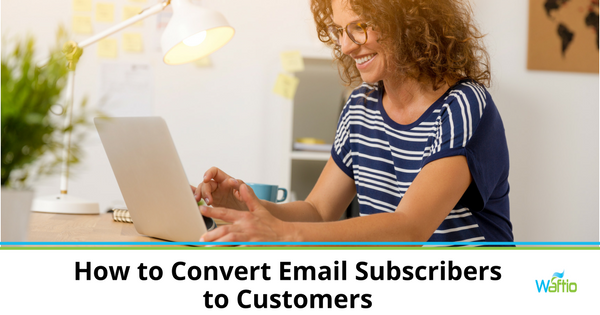 Getting people to sign up for your email list is a critical early step in your sales funnel. This step can be difficult. You have to determine the perfect lead magnet for your customers to turn them into email subscribers. But, email subscribers don't pay the bills.
So how do you convert those email subscribers into paying customers?
The next step is lead nurturing.
It's the process of nurturing your leads in order to turn them into customers via your email newsletter and your content marketing. So if you've been focusing on growing your email list, and want to make money from it, here are a few tips.
1. Understand what your subscribers want from you.
Even if you're sending out awesome newsletters every week, if you're not sending information that's useful to your subscribers, they're not going to move any further down the sales funnel. Instead, you need to understand exactly what they want from you and give it to them.
If you're unsure what you should be sending out, try creating a reader survey. Send it to your email list to see what are the most requested topics for you to cover.
2. Perfect your welcome email.
You should be sending an automated welcome email to each new subscriber. If you created a lead magnet, it should be sent immediately, along with a well-crafted welcome email.
A welcome email will introduce your product or service to your email list. It will let the new subscriber know what to expect. It will also include an easy way for them to move further down the sales funnel: either a discount code for a purchase or a small-dollar item that they can buy for just a few bucks.
To make your welcome offer even more enticing, create a nurture series rather than a single email. Craft an automated email series that sends a different email every 2-3 days reminding new subscribers of your welcome offer. Finish off the series email by letting the subscriber know it's their last chance. This creates a sense of urgency, and brand new subscribers are the most likely to convert.
3. Create multiple sales funnels.
Not every new subscriber is going to quickly turn into a paying customer. This is why it's important to create multiple sales funnels for subscribers.
Segment your list based on different categories. Entice people who have been on your list for awhile with a loyalty offer. Create a sales funnel for people who click-through to your website more often. Try to reel in subscribers who haven't opened your email in awhile with a really fantastic email subject.
4. Include a call to action in every email.
Not every email needs to be a sales or promotional email. In fact, a majority of your emails should be used only to educate. Users won't want to stay subscribed if you're constantly bombarding them with sales and offers. However, you should still include a call to action in each email you send, so your subscribers still have the option to buy.
The very first step is to get email subscribers. You need a form, and not just any form will do. You need a form that grabs attention and gets people to fill it out!
Pop-up email subscription forms get up to 70% more subscriptions than a sidebar form. How can you keep from annoying your visitors? Have the form pop up only when people move their cursor up to exit the website, popup on exit intent.
I find that on my own site pop up and slide in forms are my #1 subscription source, with a form embedded at the bottom of my blog post coming in #2.
Waftio is the perfect solution. Nicely formatted forms that draw the eye without being overbearing or unreadable. With Waftio you can add a form to the bottom of your blog post and add a slide in or popup on exit intent to the site also. The form loads a millisecond after your site, so there is no drag on your site load time. Your site stays lightening fast, just the way Google likes it.
Have questions about Waftio? Leave them in the comments below. I'll answer them right away.