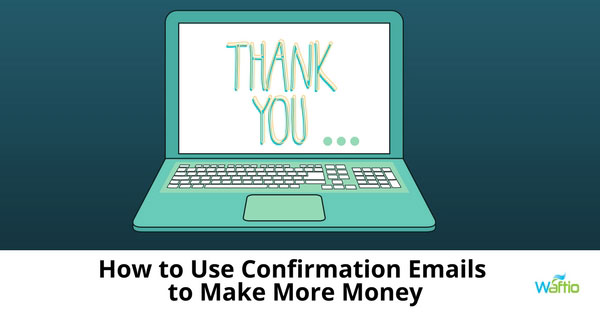 If you're already using email marketing to generate leads, convert sales, and delight customers; you're doing a great job! Aside from boasting a phenomenal ROI, email marketing is also the most effective way to reach customers and prospects.
To help boost your ROI even further, today, we want to give you a few tips on how to use confirmation emails to drive lead generation and sales.
You probably already know about confirmation emails – the emails you usually send to customers who've just made a purchase, thanking them for buying from your store and asking them to come back.
But, did you know you can use these emails to more than just thank customers? Did you know that you can use the emails to pitch your brand and products? In fact, you can even use confirmation emails for remarketing! Click To Tweet
Use them to up-sell and cross-sell
Up-selling and cross-selling are two of the most effective marketing strategies. According to one Nielsen study, consumers actually love it when sellers offer new product options. It shows them that the seller cares.
Consumers prefer to buy products from brands they are already familiar with. Put these two factors together, and you have up-sells and cross-sells contributing to between 10% and 30% of e-commerce revenues.
With this in mind, when sending the purchase confirmation email, use the opportunity to suggest a complementary product. For instance, if one buys a shaving razor, ask if they'd be interested in shave cream. If they've just purchased a phone, ask if they need a phone cover, and so on.
Use the emails to recover abandoned shopping carts
Shopping cart abandonment is a huge challenge in the e-commerce industry. Last year alone, more than 70% of shopping carts were abandoned midway through transactions, costing merchants $4.6 billion in the process.
Use emails to reach out to consumers and convince them to go back and complete the purchase. For instance, you can send an email asking about the difficulties the shopper experienced on your site and offer to provide help.
Send a confirmation email alerting consumers about discounts on the items in the abandoned shopping carts. This works particularly well if the consumer was window shopping. A discount offer can make them change their mind and return to complete the purchase.
Use confirmation emails to promote your brand & expand your reach
There are a couple of ways to do this. For instance, use emails to ask consumers to share the experience on social media. In the email, ask them to "share" the message, providing buttons to your preferred social media networks to make the sharing easy.
Another option is to ask them to sign up for your newsletters, read your blog, or subscribe to your YouTube channel. A consumer who thoroughly enjoyed the shopping experience will not hesitate to do so.
Finally, ask consumers to rate your business and leave reviews on popular review platforms. These ratings and reviews will convince other shoppers to consider your brand.
The best part, email campaign so the emails are sent exactly when they need to be sent, further increasing your conversion chances.