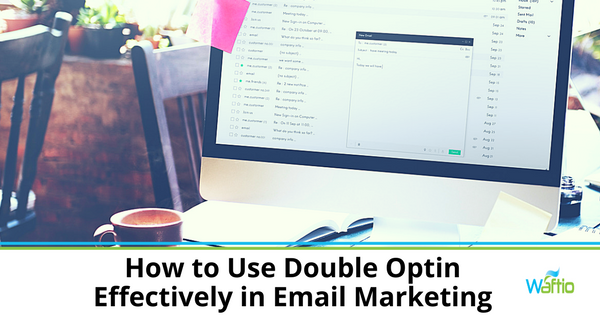 In email marketing, the best system for collecting quality email addresses is to use a double opt-in system. This is when subscribers undergo a two-step subscription process.
Part 1 – They sign up with their email address at your website.
Part 2 – They need to click on the confirmation link sent to their email inbox.
This process is necessary because it protects you. Anyone can type in someone else's email address. Without a double opt-in system, people who don't want emails from you may get them. Unsolicited emails are not only annoying,  but they're also considered spam.
On the other hand, usually, people can't access someone else's inbox. So without a click on the confirmation link, no unwanted messages will be received.
Double opt-in also protects you from getting low-quality email address. Anyone who's really interested in your products or services will confirm their subscription. You can be confident that your marketing efforts are focused on leads that have a high chance of becoming conversions.
Now that we've cleared why a double opt-in is important, the next thing to address is how you implement it. From users' point of view, the additional step in the subscription process can be frustrating. For you, it's just a click. For them, it's about switching between browser tabs or apps.
Make it feel less like a task and more like a treat. Here's how:
Set expectations on the website
Let people know what's going to happen next, so they know what to expect. When you're using a double opt-in, the page with the subscription form should let the subscriber know a confirmation email will be sent shortly. A reminder to check their spam folder is good, too.
Don't forget that even if subscribing to websites is simple; not everyone is tech-savvy. A little help can go a long way for these people.
Write great copy in the email
Skip the generic "click the link to confirm" text. Instead, make a unique customized message that's interesting, and reflects your brand's image.
For example, if you're a running an online shop for designer labels, replace the standard, "Sign up for our mail list" to something like "Be a VIP!". In this scenario, exclusivity matters, so your copy should get that point across.
Offer a welcome gift
Gratitude goes a long way. A "thank you" message is enough in most cases. But if you really want to stand out to subscribers, go the extra mile and offer them something they want. It can be an exclusive sneak peek, a free whitepaper, a coupon or discount, or anything that's related to your business.  Describe this in the email and have details appear on the confirmation web page when they have clicked the link.
Double opt-in will not get you as many email addresses as single opt-in. But the email address you get are people that really want to be on your list. In the end, that's what matters more in conversion.
Save