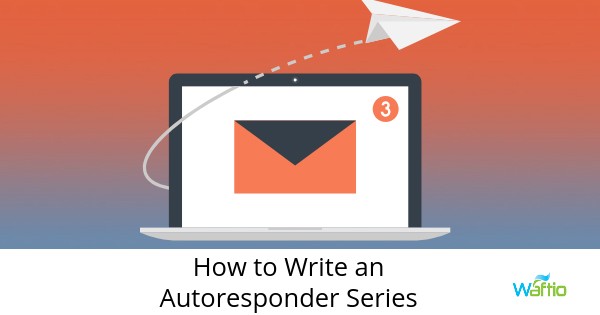 An email autoresponder is one of the best ways to connect with your audience and build a relationship with them. Essentially a series of emails sent to subscribers in a pre-determined order and frequency. The strategy is very efficient and very cost-effective.
The question is – how do you create a winning email autoresponder series? Here are 6 steps that experts at Opt-In Monster, Crazy Egg, and QuickSprout recommend.
Step #1: Establish Goals for your Autoresponder Series
There are 3 common purposes of email autoresponder campaigns.
Send new subscribers a "welcome" sequence.
Make sales on autopilot.
Promote up-sells and cross-sells.
Whatever your reason is, remember to follow the SMART goals mantra.
Step #2: Segment Your Email List
Segmentation is breaking down your email list into smaller groups of contacts who share certain characteristics. For instance, you can categorize your contacts based on demographics, interests, personas, or stage in the sales cycle. According to one study by MailChimp, email list segmentation results in a 14.4% increase in open rates, a 62.83% increase in click-through rates, and an 8.54% reduction in unsubscribe rates.
Step#3: Select the Right Email Marketing Provider
Fortunately, there are several quality options to pick from. These include MailChimp, AWeber, ActiveCampaign, and InfusionSoft. If you're new to email marketing software and don't know much about these services, just pick either MailChimp or AWeber.
They are the two most popular options used by nearly 90% of beginners thanks to their reliability, support, and a wide range of features.
Step #4: Map Out the Autoresponder Sequence
How long do you want the campaign to last? How many days, weeks, or months? Also, how many emails do you intend to send over that period? There are no universal rules in both cases. But a good rule of thumb is that your autoresponder series should last as long as your sales cycle. The important thing is to send enough emails to accomplish your goals.
Next, decide on a sending frequency. After how long will you be sending the next email? Again, there are no universal rules here so choose what works. With that covered, sit down and decide the message you want to convey in each of the emails.
Step #5: Write the Actual Emails
This can be the hardest part of the process. Consider hiring a professional copywriter to write the emails on your behalf.
The emails must focus on the subscribers' needs, not yours.
Every email must be personalized to make it relevant and valuable to the recipient.
Subject lines are critical to high open and click-through rates.
Reread the emails to make sure these requirements are met and, if possible, test the series with close friends or workers to gauge their effectiveness.
Step #6: Monitor and Improve
Perfection comes with practice. After you roll out the autoresponder campaign, don't just sit and wait. Instead, track the performance of your emails and see where you need to improve. Keep a close eye on open rates, click-through rates, and unsubscribe rates.
If you can follow all these six steps, rest assured you'll have an email autoresponder campaign that's guaranteed to consistently earn your leads and help you close sales.  An autoresponder is a key part of the digital marketing funnel sequence so important to your business marketing today.