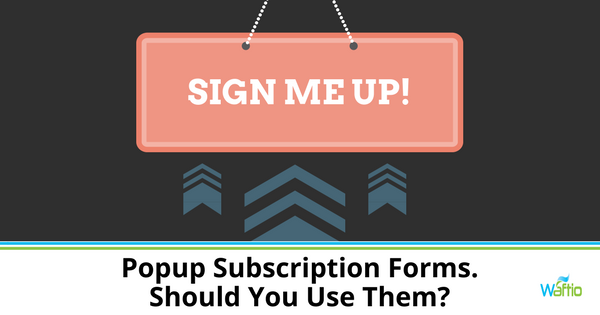 Pop-ups, pop unders, and interstitials. They've been around almost as long as the internet, and they've had a reputation as an annoyance nearly as long. People have even created software whose sole purpose is to block these interruptions, so it's safe to say that they're not well loved. But people keep using them. Why?
How We Use Popups Today
There was a time when the sole purpose for pop-ups was to make sure high paying ads were seen. That's part of the reason why they're annoying and frustrating.
However, and these days, popups are primarily used to promote your own email list and similar subscriptions.
Why This Is Better
There will always be people who are annoyed by popups. The fact is most popups today are related to a site they're already reading, and interested in. So they're less likely to inspire anger and frustration.
How to Get More Out of Popups
If we want to get more email subscribers, we need to make sure that people are aware of our lists. The best way to do that is to make subscription forms as visible as possible.
Pop ups are great, but there are several ways to get more from them if you do decide to use them:
Keep the design clean and avoid garish graphics, ghastly gifs or blaring music.
Limit the information you require. This is true of every form on your site, but even more so with popups. If you can get away with just a name and email address, do it!
Use persuasive copywriting on your opt in or opt out buttons. Something like "YES! I want to learn how to X" and "No. I have enough Y already" usually works well.
Make sure it's easy to close the popup. If users can't close them, they might close your site instead.
Set up pop ups so they only show once per visit. That way your visitors aren't bombarded on every page they visit.
The fact is, popups increase opt-ins from 0.4% for a regular sidebar subscription form to 5.5% overall, and that's a huge gain that's hard to ignore.
If you want to grow your list, they're a great way to do just that. While they can be hit and miss, try testing them, perhaps with different messages to see what works for you.
If your site is a valuable resource, and you're offering an enticing deal in your popup, you'd be surprised at how much a pop-up subscription form can bring.