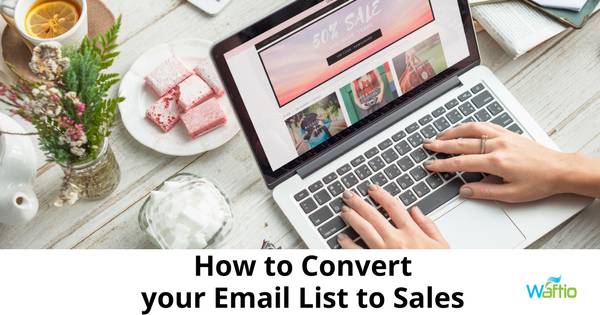 Nearly every small business marketing article will mention building an email list. However, few of these posts tell you what to do with subscribers after they sign up. When you're ready to convert your email list into paying customers, here are some tips to put into action.
Research Competitor Email Tactics
Do you know what your audience expectations are? Your idea of an email marketing campaign and what's standard for your industry may be completely different. Look at the phrases used in industry emails, the type of marketing materials included in the emails and other items your ideal customers may have already seen.
Develop a Valuable Lead Magnet
A lead magnet is a resource that will benefit your audience enough that they will give you their email address for it. You may already have one of these for list building purposes, but it's always a good idea to continually create new magnets to expand what's available and to bring in more people.
Your free opt-in offer also gives a  new subscriber a chance to see your expertise. If they learn from you in your free material they'll know they can learn from you if they pay you.
Use Personalization in Your Emails
The typical person subscribing to your emails receives hundreds or thousands of generic emails from countless businesses. They're used to simply skimming past these one-size-fits-all messages because they don't apply to their needs.
Segment subscribers into several interest groups and deliver messages that speak about the areas that make the most sense for that interest group. Use their name to stand out over the generic emails in their inbox.
If you have a lot of buyer data for your email list, make sure you're leveraging it for a quality customer experience.
Automate Repetitive Processes
By automating email campaigns, you can free up a lot of time. These automated campaigns take over repetitive tasks like sending out the free opt-in offer. Schedule your free opt-in drip campaign to send a series of emails over the course of a month or year. Since your email service provider handles that side of things, you can turn your attention to developing more content or talking to potential buyers.
Build Relationships Through Consistent Newsletters
Few people are going to buy your products with your first email. Slowly develop the relationship by showing up and being consistent. Schedule your emails to arrive on the same day of the week and time of day. This practice lets customers know that you're a reliable company.
An email list is an excellent tool for generating sales, but you need a solid strategy for turning subscribers into buyers. Start implementing these tips and you'll see improvement from your current strategy.