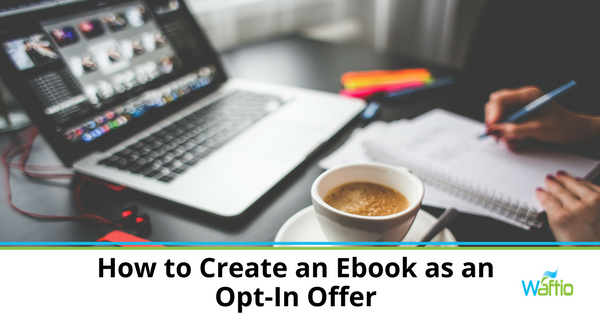 When building your email list, the best way to increase subscribers is by offering something in exchange for their email address. This needs to be more than a basic "Sign up for our newsletter!" call to action. People have no idea what to expect from your newsletter. So even if it's full of valuable content, you need to offer more to get their email address. Create an ebook opt-in offer.
There are many different options for an opt-in offer, eBooks, white papers, free video webinars. But an ebook is a very powerful option. Typically it's around 25 pages and covers a single topic your audience is interested in.
If you're ready to create your first ebook, check out our tips below.
1. Pick your a Relevant Topic.
Pick a topic that's relevant to your business. What's something your target market would be interested in learning more about? What question do you get asked most? That's a great topic for your eBook.
For a digital marketing agency, an ebook about Facebook ads or creating a social media strategy. A contractor might have an ebook about minor fixes homeowners can do themselves. A credit union might have an ebook about repairing your credit.
It's important to give away valuable information in your opt-in ebook, but not too much information that they don't buy from you.
2. Outline your ebook.
Since ebooks are much longer pieces of content than a typical blog article, the best way to get started is by creating an outline. Write the main points you want to make and include a few bullets about each one.
The best way to outline your ebook is by dedicating a separate chapter to each subtopic, then cover each subtopic thoroughly.
3. Flesh out your points.
Now write your ebook! Take the outline you've created, write your introduction, and flesh out each of your chapters, subheadings, and bullet points.
Include a call-to-action to your products/services in your conclusion to let each of your new email subscribers know what next steps to take after reading your ebook.
4. Proofread and edit your ebook.
Proofreading and editing anything you write is always crucial. Sentences that may have made sense when you initially wrote them might need some cleanup after rereading them. Once you've finished writing, set it aside for a few days before coming back to edit. It's always a good idea to let it stew before revisiting it.
5. Design your ebook.
This can be one of the most difficult parts. You want your ebook to be engaging and compelling. It requires more design than a regular blog post. You want to make it easy to read and aesthetically pleasing. Don't slap a bunch of words onto a Microsoft Word document and export it as a PDF.
Here's a great tool to create your own eBook, https://MyeBookMaker.com.
Once you've finished your design, export it as a PDF, and you're ready to get started increasing email subscriptions with your new ebook opt-in offer. Create a pop-up on your website and a landing page that includes a thank you and link to download the eBook for new subscribers.