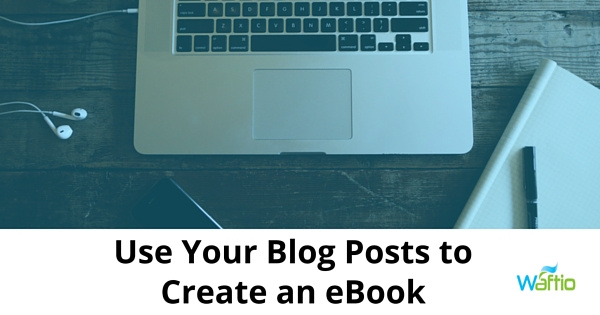 Have you ever considered writing an eBook? It's a tool that can often be a great soft-lead capture piece to use on your website.  If you're a blogger, chances are you already have everything you need to create one easily!
Follow 6 steps to use the blog posts you've already written to create an eBook.
1. Content
Look at your blog posts. You'll more than likely notice a recurring theme among a group of them. Maybe you write regularly about how to live on a budget, or make meals in thirty minutes or less, or how to stop procrastinating and start writing. Whatever your blogs are about you'll probably notice a few similar subjects that pop up on a regular basis.  This can be the framework for chapters in your ebook.
2. Sort It
Gather all the blog posts you've written on one subject. Read them! I emphasize read them because your eBook needs to make sense and not duplicate information. Decide which blogs to use and put them in a logical order and make  necessary additions or deletions to them for providing a cohesive flow and chapters that build on others and refer to items in other chapters.
3. Add Content
Your eBook should now be taking shape, but it's still a collection of blog posts. The next thing is to turn it into eBook format. This involves adding more specific content including the following components:
Introduction – what they will learn and why they should read it
Review each chapter and consider a chapter introduction that refers back to the previous chapter with  "In the last chapter we covered…and in this chapter, we will address…"
You could also consider adding headers and footers
Take a look at eBooks you've downloaded in the past. Choose a couple you really like and model your eBook layout after them.  Remember, people like to skim so use titles well, generously use sub-titles and bulleted lists, and do not have too much content on any page. It's not a college term paper!
Once you have the basic format of the interior pages, you need to read it again, from front to back. Better yet, have someone else read it for you for an outside perspective!
Check and double check
Make sure the table of contents matches the page numbers
4. Design
Pictures, graphs, and infographics can support the message of your eBook. But be careful not to add them just for the sake of it. They must enhance the content, be relevant, and not distract the reader.  That being said, it is important to use images to enhance your key points, provide examples, and to break-up the text. Use an image per page at least.
You should also create a cover page. Keep it simple and relevant. For some, this might sound a little daunting, but it doesn't have to be. Canva.com has some great cover templates. Hubspot has eBook templates also.
5. Format
Formatting is where your completed document becomes the eBook. You could convert it to a PDF file or use an eBook service. Creating eBooks is one of the services we offer. Once you have the eBook stored as a PDF, I strongly suggest you check it again.
Yes, I know by now you have read through it so many times you feel you know every word by heart, but sometimes the formatting can be a little off when it's converted to PDF. So don't be tempted to skip this part just to save time. You should also consider having someone else read it as a new set of eyes might spot something you missed.
6. Publish
All that is left is how to offer your eBook to your readers? The simplest way is to upload the PDF as a document to your website. You will now have a URL that links directly to your eBook.
Most people give their eBooks away free of charge as an incentive to sign up for their newsletter. If you plan to monetize your eBook, you'll need some a gateway which releases the eBook only after it's paid for it. Another method is to load the ebook to Amazon.com.
Need an eBook for your free opt-in offer?
Contact me and I can get you with our team to go over your strategy and find your perfect topic. Our team can use your blog posts or write your eBook for you. We'll format it, add a clickable index if needed and create an appealing cover. Then we'll add the book to your WordPress site and send it to your subscribers via MailChimp.
Want to get your eBook published? Contact me, I'm happy to help and get you with our team!