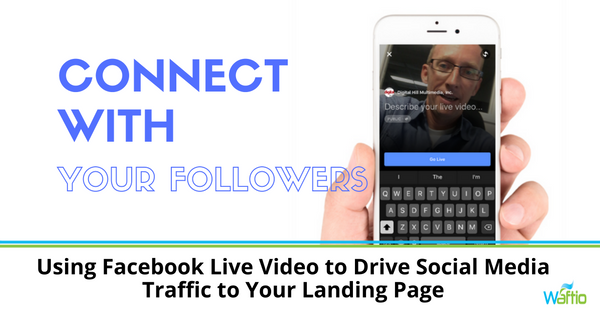 Live video apps were introduced in 2015 but didn't really come into play until 2016 when Facebook introduced their Live Video feature. Previously Periscope and Meerkat (which has since shut down) captured the market share of live video, but now Facebook is dominating the live video game.
Doing a live video can be a bit nerve-wracking to start, but as long as you prepare and know how you want to use Facebook Live video, you'll knock it out of the park. A perfect way is to use Facebook Live video to drive social media traffic to your landing page from your Facebook page.
Are you launching a new product or service? Trying to build your email list? Sharing a new online course you've created? These are great reasons to go live on Facebook. If you're running a new campaign or preparing for a launch, here are a few tips for using Facebook Live as a part of your traffic-driving strategy.
1. Determine your topic.
Don't go live without preparing what you want to say. It's a live video, but you should treat it more like a live news broadcast. This is a reflection of your business, so you want it to be as professional as possible. Enlist an employee, business partner, or really nice friend to be your cameraman or invest in a tripod for your smartphone. Dress nicely, find a room that doesn't give you a terrible echo, and practice.
2. Schedule your live video.
If you have verified your Facebook Page (gives you a gray checkmark next to your business name), then you can schedule the time(s) that you plan to go live so that your audience is aware ahead of time and can tune in. If not (and even if you use the previous tactic, too), you should create a graphic with the date and time of your live stream and share it on all of your social media sites. Run a Facebook ad to promote your live stream as well.
3. Include a link in your caption and mention it during your broadcast.
When you go live, be sure to include the link to your landing page in the caption of your live stream. If you use landing page software like LeadPages, you may have created a domain redirecting to the page. This makes it easy to read the link off while live. If not, try to use a bit.ly link or create a really simple permalink for your landing page so that you're not calling out a bunch of slashes and hyphens during your Livestream.
When you create your live video content, on several occasions let your viewers know what they can find/do on the landing page (information about new course/product/service, discount, contest, email signup, etc.) and slowly read off the URL again.
4. Repurpose your live video.
Once you have finished with your live broadcast and your heart is back in your chest, Facebook will then publish the video as a post on your feed. Pin the video to the top so that it's the first thing that anybody visiting your page sees.
You can also share the video URL on Twitter, in other Facebook groups, and on your own profile. However, there are also tools for you to download your Facebook Live video (if you didn't save it immediately after the broadcast). Then you can upload it to Youtube and Pinterest.
Facebook Live is a great tool for directing more web traffic to your landing page.  Just follow every step in this guide.