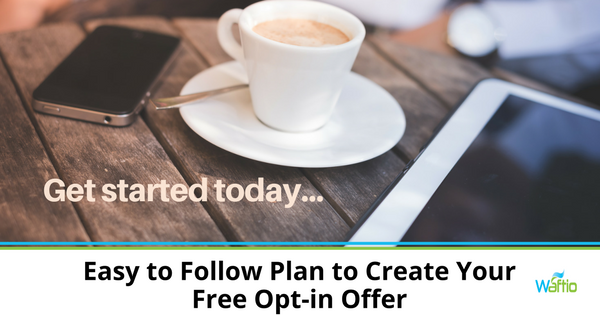 First things first: what is a free opt-in offer? Essentially, it's a value-packed informational product (this can be a spreadsheet, workbook, ebook, cheat sheet, checklist, etc.) that you give out to your audience in exchange for their email address.
Sure, giving out something for free sounds counterintuitive when you're running a business. But giving away a free opt-in offer to add people to your email list is always a smart idea.
Why is it a good idea to build your email list?
Well, because not very many people are going to buy from you the very first time they hear about your product or your business. But a lot of people will give you their email address in exchange for a free workbook that will help them with a problem they're having. Now their email is on your email list, and you're able to nurture that lead and eventually turn them into a customer.
So how do you go about creating your free opt-in offer?
Step 1: Determine your topic
How do you know what to create for your free opt-in offer? Think about the problems that your target audience has. How can you solve them?
You want to offer something of value to increase conversions. So make sure your opt-in offer can help your audience solve a pain point they're facing.
Step 2: Create your content
Now it's time to create the content for your opt-in offer. Whether it's an ebook, a workbook with pages they can write in, or a checklist, you've got to create the meat of the offer.
Do your research, repurpose some of your own blog and email content, and phone a friend to ensure you've included all of the moving parts. After all, you want this to be as informational as possible so your readers will keep coming back for more.
Step 3: Design your opt-in offer
Good design is a huge step in your opt-in offer freebie. You don't want to simply hand off a PDF word document with content. First of all, it's hard to read. And second of all, even if the content is amazing, it doesn't look impressive.
You don't have to use fancy software to design a visually appealing opt-in offer. You can use Apple Pages or Canva to get you started or outsource this part to a designer.
Step 4: Create your sales page.
This is one of the most important parts (aside from creating the actual content). This is what is going to actually "sell" your freebie. (Sell is in quotations since it is, well, free.) Design an aesthetically pleasing landing page on your website or with software like LeadPages and create succinct but engaging sales copy that shows your audience exactly why they need your opt-in offer.
Creating an opt-in offer doesn't have to be a difficult process. In fact, it's one of the easiest ways to start exponentially increasing your email list subscribers. Use this easy to follow plan to get started creating your first free opt-in offer.