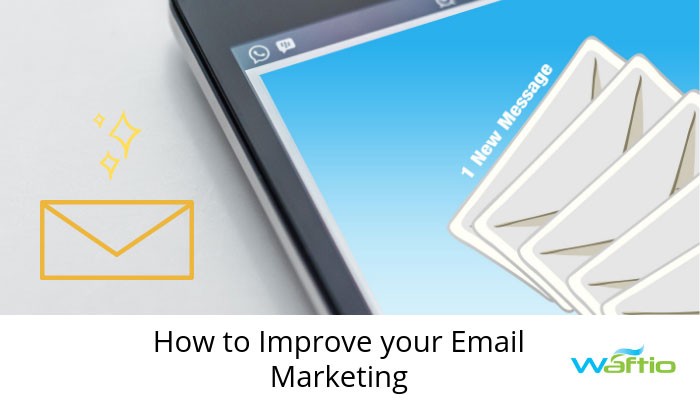 Email marketing remains one of the oldest yet most effective digital marketing tools. Reaching at least 3.8 billion people per year, according to a December 2018 study by the Radicati Group, this provides marketers with a practical, inexpensive way to generate leads, drive conversions, and retain customers.
Unfortunately, many small and medium-sized businesses still struggle with email marketing. While the majority of these businesses use email, only a small fraction can say they've mastered the channel, with most still struggling to get meaningful ROI. Below, we look at seven proven tips to help you improve your email marketing returns.
Begin with a clean Email List
Every email list loses a bit of quality every year. Between people changing their addresses and customers moving to new email providers, you're guaranteed to find a few obsolete contacts on your list. It's your job to regularly audit the list and weed out incorrect and outdated addresses.
Aside from that, take steps to grow your list. Find a useful lead capture tool, get your opt-in forms out there, and consider giveaways to win new sign-ups.  And, never, under any circumstance buy a list and expect it to be valuable. More often than not, it will get you banned from your email marketing service.
Get your content right
Since emails need to be fairly short, every word counts. So, you want to be keen on what you say and how you say it. Optinmonster has three useful tips.
First, always sound like a real person; avoid marketing jargon and be conversational. Secondly, appeal to emotions; use sensory words to help your readers see and feel the picture. Third, sprinkle your copy with power words to elicit a reaction.
Use psychology to drive action
The human brain is designed to react in predictable ways. Email marketers can take advantage of this to drive action. For instance, Fear-Of-Missing-Out (FOMO) approaches such as scarcity and urgency are guaranteed to earn a higher CTR. Other psychology-driven strategies to help you get more clicks are; color choice, pictures of faces, social proof, and personalization.
Invest in email automation
Only 49% of companies use email automation. This is unfortunate considering that automation has the potential to turnaround your email marketing fortunes. According to a recent study by the Epsilon Email Institute, triggered emails have 70.5% higher open rates and 152% higher click-through rates compared to regular emails. Also, automation boosts qualified leads by 451%, improves revenue by 85%, and increases productivity by 69%.
Use images/video in Emails
In one of his most popular blog posts, celebrated digital marketer Jeff Bullas reveals how he increased email conversions by 344%, thanks to images and videos. The trick is simple, make sure that each email you send out has at least one image. Videos work too, but they can be slow. This makes quality images your best option. Consider GIFs and emojis as well. GIFs, for instance, boost conversions by 103%.
Follow industry best practices
Over the years, email marketing has shown a few patterns that marketers can use to remain competitive. For instance, always send welcome emails. Welcome emails have an incredible 81% open rate and 22-25% CTR! Additionally, send emails between 9-11 am and 3-5pm, on weekdays, for the best outcome. Above all, optimize your subject lines, use lead magnets, and always provide a CTA.
Test and improve
No marketing campaign is perfect. If you want to get maximum value from your email campaign, take time to observe, measure, analyze, and consistently test out different options. Some of the elements you want to test are; subject lines, CTAs, send times, content, and visual layout.
Get Started Today
These seven tips to improve your Email marketing alone might not triple or even double your email marketing revenue. But, they're guaranteed to have a positive impact on your ROI.