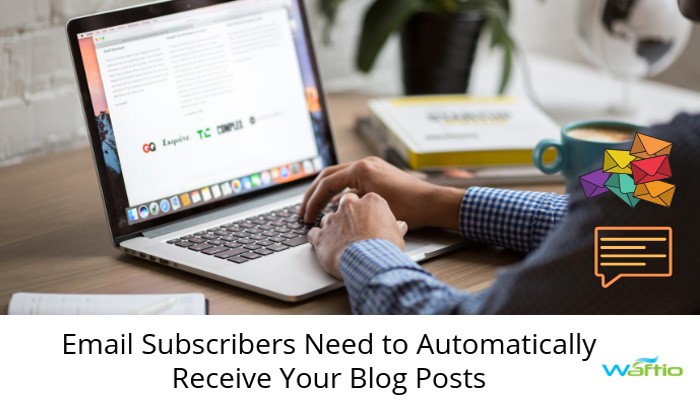 Every business craves a higher return on their online investment; more email subscribers, more readers, more conversions, and ultimately more revenue. Email marketing can be an asset towards accomplishing this goal. We'll find out how, shortly. But first, three powerful stats;
Email marketing has a Return on Investment (ROI) of $32 for every $1. PPC, in comparison, returns a paltry $2 for every $1 spent.
Up to 81% of SMBs depend on email for customer acquisition. Another 80% consider email their primary retention tool.
Up to 81% of SMBs depend on email for customer acquisition. Another 80% consider email their primary retention tool.
These stats tell us one thing – any serious digital marketer cannot overlook email marketing. Not only does it promise a huge market but that ROI is simply incredible.
Email Marketing Promises Even Greater Value to Bloggers
It's not just the market and average ROI. Particularly for bloggers, email marketing promises a lot more.
You own the email subscribers
Not many digital marketing platforms give you control over your contacts. Social media networks, for instance, go as far as to control what posts you can share and the fraction of your followers you can reach. On Facebook, for example, you can only reach about 12% of your followers and your posts can be deleted if deemed "inappropriate." Email marketing gives you complete control.
Email marketing generates plenty of traffic
According to a 2018 report by Constant Contest Knowledge Base, the average email open rate (fraction of recipients that open the emails they receive) is an impressive 41.96% on mobile and 58.04% on desktop. The average CTR, meanwhile, is 7.06%. That's 7 in every 100 contacts clicking through to view your blog! Even paid ads struggle to deliver this CTR.
Email personalization drives even more traffic
Bloggers often turn to buyer personas to meet personalization needs. Unfortunately, even the best buyer persona can't fully meet personalization needs. The good news is – email personalization can! You can craft your emails in a way that specifically addresses the needs of that individual recipient. And guess what, such deep personalization boosts CTR by up to 50%!
It's easy to track and measure
Measurement is the key to sustained business growth and there isn't an easier marketing channel to measure than email. You can track pretty much every metric; from delivery rates to open rates and CTR to conversions.
How to Use Email Marketing to Grow Your Blog
Every blogging campaign is different. But, there are a few basic rules to email marketing success;
Find the right email platform: There are several email marketing platforms to choose from. Three that stand out are AWeber, Get Response, and MailChimp. Picking any of these three would be a great start.
Develop your drip campaign: Customers go through an entire journey before making a purchase. It's important to map out this journey beforehand and send emails in accordance with the journey.
Optimize your emails: Work on your subject lines, email length, sending times, personalization, and CTAs to get the most from your emails. Also, don't forget to A/B test your campaign.
Optimize your opt-in forms: Also known as lead capture forms, your opt-in forms must be great both aesthetically and functionally. Use a catchy headline, include a compelling CTA, and design to impress.
Now, You Know What To Do
If you've not been using email to grow your blogging campaign, now is the time to begin. If you're already on the bandwagon, use the four tips above to extract more value from your campaign.