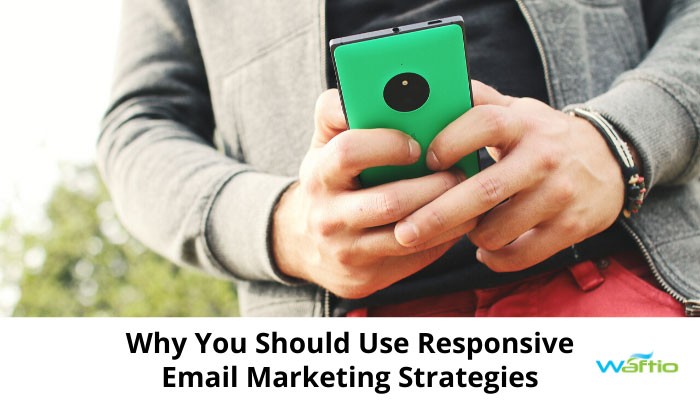 You already know just how effective email marketing can be. Not only are you looking at an ROI in the region of $38 for every $1 you spend, but email also guarantees more traffic. Additionally, email improves customer loyalty and has other benefits that directly impact your bottom line. Now, you can extract even more juice from your emails by implementing a responsive email marketing campaign.
What is Responsive Email Marketing?
Similar to responsive web design, responsive email marketing means optimizing your emails for mobile devices.
According to multiple studies, the majority of emails are now opened on mobile. A recent Invesp report, for instance, shows that two out of three emails are opened on smartphones and tablets. To be specific, of all opened emails;
49.53% are opened on smartphones
16.81% are opened on tablets
33.66% are opened on desktop
These people who open emails on their phones and tablets expect the messages to render seamlessly on their device screens. They don't want to see broken images or sentences that run beyond the screen area.
Indeed, 70% of consumers immediately delete emails that don't render correctly on their mobile screen. Worse still, 43% of consumers have previously marked an email as spam because the message didn't display or work well on their mobile screen.
Responsive email marketing involves optimizing your emails for smartphones and tablets to achieve the best user experience.
Benefits of Responsive Email Marketing
As we've seen already, responsive email design significantly boosts user experience. With your improved user experience, your business stands to benefit in the following ways;
Higher email open rates
Smart Insights researched open rates in responsive vs. nonresponsive email campaigns. The results show that for nonresponsive emails, the average open rate on mobile is 51.7%. But, as soon as you optimize your emails for mobile, the average open rate jumps to 57.2%.
That's an increase of about 10.63% or one more person opening your emails on mobile for every ten responsive emails sent.
Higher click-through rates
More enjoyable user experience can also significantly boost click-through rates. The above-mentioned Smart Insights study shows that marketers with responsive design get 58% of their clicks from mobile devices, whereas for those with nonresponsive design, only 46% of clicks come from mobile. It means that optimizing your emails for mobile can increase your click-through rate by up to 24%.
The first link in a responsive email, for instance, gets 30% more clicks compared to one in a nonresponsive email.
More sales/conversions
Obviously, an increase in your open and click-through rates will likely translate into more sales/conversions. But there's more. A fully responsive email campaign also involves optimizing your landing pages for mobile. When you optimize the entire email marketing process, including landing pages, expect a sharp increase in conversions.
There are two reasons why. First, most people now make their purchases on mobile. Secondly, once you optimize for mobile, you remove most of the impediments that might prevent the consumer from following through to conversion.
Reduced unsubscribe rates and spam complaints
Finally, optimizing your email campaign for mobile devices also reduces the likelihood that recipients will unsubscribe from your list. It also gives them a reason not to report your campaign as spam.
Up to 51% of email users, for instance, have unsubscribed from a brand's promotional email campaign because of issues such as poor rendering and broken images. Others also quickly mark such emails as spam. Responsive design can help prevent these issues.
Start Optimizing Now
If you're serious about generating more leads and sales from your email marketing campaign, the time to begin responsive design is now.