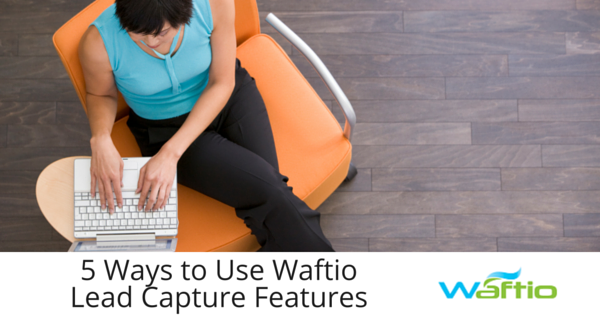 Your company website is probably the most powerful marketing tool you have. Unfortunately, too many business owners are underutilizing this power by not capturing leads on their site. This crucial mistake means that you're not expanding your client base by collecting valuable customer data. The good news is that Waftio offers 5 fun and engaging ways to add lead capture features to your website.
1. Quick Contact Form
One of the simplest ways to use the Waftio lead capture feature is by adding a quick contact form to your website. This form should encourage your online visitors to provide you with vital contact information, such as first and last name, their email address and question or comment.
2. Contests
Contests have become extremely popular among online users. Businesses are using this enthusiasm not just to drive traffic to their website, but also as an effective lead generation tool. Every customer, or prospective customer, that enters your contest with hopes of winning the prize, also provides you with valuable contact information. You can use this data later for marketing purposes.
Create a quick "enter to win" sweepstakes contest and use the Waftio features to make it live, allow only 1 entry per email address, and even end the contest automatically at a set time!
3. eBooks
EBooks provide a great way to provide your customers or potential customers with valuable information, and portray your company as an industry leader. More importantly, eBooks are a great marketing tool for growing leads. As customers sign up to receive your eBook, gather their contact information for future use and email nurture marketing.
Waftio is integrated with Mailchimp, AWeber, and Infusionsoft for easy integration of emails captured into lists in those systems.
4. Webinar Sign-ups
Do you have something you want to teach your customers? Consider hosting a webinar.
This will give you a chance to engage directly with your clients and to promote your business. When hosting a webinar, be sure to use a registration form to collect names and emails. Not only will this allow you to send out email reminders about the webinar, but future emails, as well.
Waftio has direct integration with GotoWebinar, the leading webinar software tool.
5. Event Registration
Need a quick way to capture event registrations across your website?
Whether you are planning a special online event or an in-store special event, be sure to provide an online registration option. This will allow you to track the number of guests that plan to attend your event and gather vital customer information. Use this information to send out event reminders, event follow-up material, and future marketing emails.
With Waftio, these lead capture features can be added to your current website in a variety of ways, such as installing it as a widget pop-up or pop-up box, embedding it on your web page, or adding it directly on your landing page. Waftio's features can be integrated with MailChimp, InfusionSoft, Aweber, and GoToWebinar. Start using your website to its fullest potential today, with the help of Waftio's effective and engaging lead capture features.