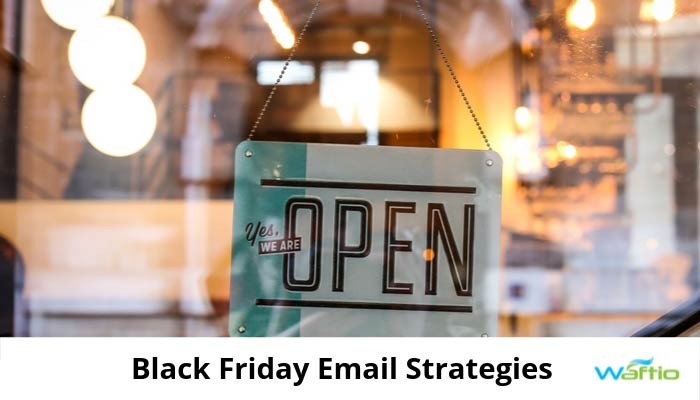 Black Friday has presented small business owners with an opportunity to ramp up sales. Last year, for example, 165 million Americans shopped over the Thanksgiving weekend which runs from Black Friday through Cyber Monday. On Black Friday specifically, over $6.5 million worth of items were sold, a 23.6% increase from 2017. Let's look at Black Friday email strategies.
The value of the average Black Friday order has also been increasing. Last year, the average order was valued at $147, up 8.5% from 2017.
The following email marketing tips should give you a head start in the scramble for this year's sales, which are expected to surpass $7 billion.
Black Friday Email Strategies
Start early, way before Black Friday
A 2016 report by Adobe Marketing Cloud shows that businesses that gain the most from Black Friday kick off their campaigns long before the Thanksgiving weekend. Most of the successful marketers begin sending relevant marketing messages as early as November 1st.
This is when you should start your campaign. At worst, begin sending Black Friday-themed emails three weeks out. If you delay even for a few days, it could be too late. By the time you send your first message, competing brands will have already turned your customers' heads.
Send a SALE announcement email
A sale announcement is a well-executed email stating publicly that you'll have a sale on Black Friday. These emails help build anticipation and excitement among consumers.
There are a few points to observe, however. First, make sure that the email is direct and to the point. You want to have a standout subject line, such as "Black Friday Sale – 30% Off" and a single, overarching CTA. Secondly, use a high-quality product image in the announcement. For maximum impact, the product and images must be chosen wisely. Experts recommend using images of your best-selling or most interesting products.
Consider the FOMO strategy
Fear of Missing Out (FOMO) is a strategy widely used by marketers to create urgency among consumers. As Black Friday approaches, you can turn to the time-tested tactic to boost your store traffic.
Feel free to use either the limited stock or limited time approach. Or, you could use both. Nicelaundry.com does an exciting "released only once a year" limited stock email campaign for their 3D socks every Black Friday. Essentially, there are a specific number of items such that the offer can run out anytime. Limited-time offers, meanwhile, run out after a given period. Remember to send reminder emails.
Send last-minute extended sale emails
Strategic "extended" deals also work like a charm. You put an irresistible offer on the table. But, the product or discount is only available for a limited time. When that window is about to shut, you extend the offer period by, say an hour, to give more people time to claim the deal.
Don't forget to send email reminders about these extensions. Again, start with a catchy subject line such as "Extended Sale. Our 35% Off Deals Now End at 1.00 am." Such subject lines stick out in the email inbox. Be sure to include a high-quality image of the product.
Supplement email with other channels
Finally, depending exclusively on email to run a Black Friday campaign would be wasteful. Not all customers will be checking their inboxes on Black Friday. And, even those who do might not check their inboxes 24/7. Using email alongside other channels such as text messaging, messaging apps (e.g. Messenger), and live chat will help you reach more people and convert even more sales.
Now You're Ready to Get Started
Don't forget to balance persistence with courtesy. In email marketing, too much is just as costly as too little. If you follow the above tips, you will be on your way to having a successful Black Friday weekend for your business.