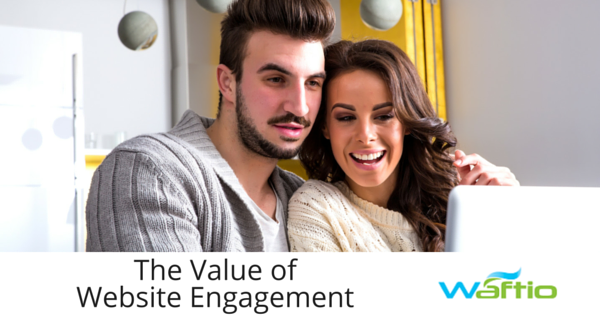 In this day and age, every business knows the value of a good website. A website with professional graphics, high-quality content, and easy navigation makes a positive impression on potential buyers and will help you score sales.
A lesser-known opportunity for a website is engagement, grabbing a person's attention when they get to your site and encouraging them to interact with your site.  This takes intentionality and often tools to help prompt the engagement.  When done well it helps people to remember your business and builds a positive first connection.
Here are four more benefits of WebSite Engagement
1. Get's Rid of Searching
Tools that "capture attention" on websites make it easier for a customer to interact with the site. Instead of having to scroll through the site to find a contact page or subscription form, they'll see the Waftio form spring out at them and can immediately make inquiries or feedback. People are often in a hurry and have limited time to spend on your site. The quicker you get their attention and get them what they need the more engagement you'll have.
2. Attention-Grabbing
With all the things vying for people attention, from funny YouTube videos to viral Instagram photos, it can be hard to capture a person's attention online. Tools such as Waftio play into that instant gratification and quick access to tools that jump out on the page and are fun and interactive.
Instead of a plain, boring form which could be easily overlooked, the website visitor will be immediately drawn in by something that jumps out at them. You'll get more subscriptions, registrations, and inquiries which can lead to potential sales.
3. Learn New Information
Because people have a limited amount of time and attention, if you want feedback on how a product is doing, you aren't going to get by sending out an email begging customers to take a survey. With Waftio, the shake of the survey form will capture attention, be enticing, and you'll get more responses.
4.  Share on Social Media
Waftio is different than it's closest competitors because it has a social component. The tool offers the opportunity to share survey forms on social media upon completing them. Your business will get more exposure, more traffic, and more potential leads will come to your website.
That's four more ways you can use Waftio to your benefit on your website.  Try the free trial today!