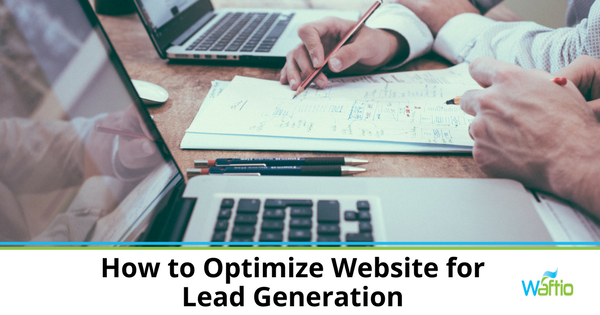 Your site is the most important tool in your toolbox for generating leads. Getting all the traffic in the world or writing engaging content doesn't matter if traffic isn't converting to leads. To optimize your website for lead generation, you have to know what elements of your site convert and how much they're converting. Here are 4 places where your site can be improved to get more conversions.
Boost Lead Capture With Forms
Forms are usually at the front line of capturing leads and optimizing your forms can boost lead conversions. However, forms won't work if they don't attract visitors or are cumbersome. Here are 5 ways you can improve your forms to convert.
Reduce Fields

In many cases, having too many unnecessary fields is a deterrent for users who may not have patience.This is especially true for mobile users trying to filling out forms on a small screen.

Include a Privacy Policy Link

Wi yourth spam and scams prevalent on the Internet, visitors are often hesitant to give too much information. Adding a privacy policy, allows them to feel comfortable and presents you as trustworthy.
Optimize Landing Pages
In combination with forms, landing pages drive visitors to convert. On their own, landing pages give visitors more information, presents offers, and can be used in conjunction with other marketing channels (such as social media). Because they are multi-functional and important to lead generation, optimizing landing pages has an impact on overall site optimization.
Work on Your Value Proposition

Highlight the value of your business and convince visitors on why they should leave their information or make a buy. Be upfront with the benefits of your free (emphasis on free) ebook or your white paper.

Thank You pages

When a lead leaves their information on a landing page, they should be sent a "Thank You" page. Thank You pages can display testimonials and links to other pages and offerings, and provide encouragement to explore the site more.  This solidifies their trust in the company, and they're much likelier to return.

SEO

Much of the time, landing pages are found through search engines. You can optimize a landing page for SEO by:

Speeding up page loading times
Including keywords
Use engaging, short, relevant headlines
Make content shareable with social media share buttons
Don't redesign your entire website to get more leads. By improving the more important lead conversion elements of your website (landing pages and forms), you can optimize your site for lead generation, gain more conversions, and build trust in converts and visitors.