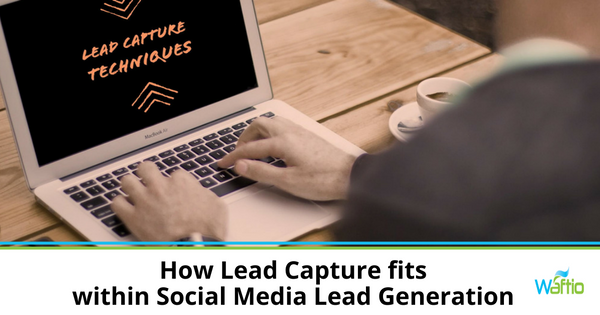 Many business owners believe that social media marketing is only about brand awareness or updates to let followers know what's going on with the business. What they don't realize is that social media has some serious lead generation power.
To get started generating leads, think about your opt-in freebie or lead magnet. This is something you create and offer to potential customers for free to get them to sign up for your email list. This can be anything from an ebook or white paper or video education series to a free consultation or a discount/free shipping.
Once you've decided how you're going to lure potential customers onto your email list, you can set up your lead captures on social media.
Step 1: Landing Page
Your landing page should include a brief bit of information about the lead magnet, graphic, and a signup form. Plain, and simple. On a lead capture landing page, you don't want to distract the customer from what they're there to do: sign up for your email list. You can include a First Name field, but you should only have your Email field required to make signing up quick and easy.
Step 2: Facebook Ads
There are 2 types of Facebook ads you can use for lead generation. The first is the basic lead generation ad that gathers emails directly in Facebook. When your ad is finished running (or every week or so if you have your ad running continuously), go into your lead ads library to download the most recent signups and upload them to your own email marketing platform.
The other option is conversion tracking. You'll set up a conversion tracking ad that leads to your landing page. You'll need to insert a pixel on your website's home page, your landing page, and your thank you page to track conversions.
When setting up your Facebook ads, create a caption that makes your targeted audience want what you're giving them (in exchange for their email address).
Step 3: Twitter Cards
Twitter Cards are interactive tweets that give more info on a link, app, or video. Twitter also has a lead generation card for ads. To get access to the Twitter Cards, you'll need to create an ad account and run an ad.
Create your lead generation Twitter Card in the same manner, you would create your Facebook ad. Twitter Cards also allow you to collect email addresses directly through Twitter, without the customer navigating to another website. The cool thing about Twitter Cards is that you can promote them, but you can also organically tweet out a lead generation Twitter Card. Pin it to the top of your Twitter profile to increase views. This is a great way to organically collect new leads.
Step 4: Promoted Pins
Design a Pinterest graphic that leads to your landing page. Create a Promoted Pin campaign with the traffic objective, so you pay for clickthroughs. If you don't have graphic design skills, outsource this project. Pinterest relies heavily on visual aesthetics, so your pin graphic is important.
These are the top 3 ways to capture leads on social media. Want to move potential customers through your sales funnel? Try using these 3 lead capture methods.
>