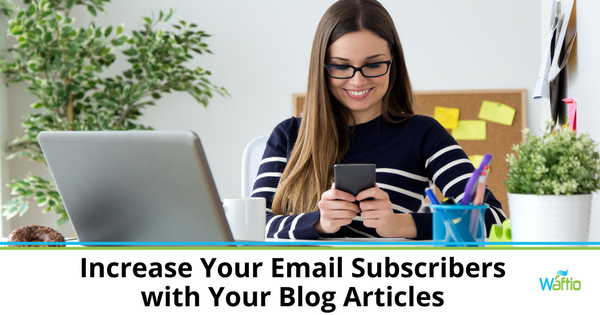 It's the digital marketer's mantra: the real power is in the list. You've got one shot to impress a website visitor, but endless opportunities to reach out to your email list subscribers.
Blogs are a great way to capture interest and email addresses, but if yours isn't exactly a gold mine of signups, then it's time to make a few tweaks. Our recommendations are:
1. Get Responsive!
Responsive design is so critical that Google and other search engines are penalizing sites that aren't mobile-friendly, and accessible across platforms. More important than that: if your readers can't access your blog on their phone, they will go elsewhere.
2. Put Opt-In Forms on Every Page
No one is going to look for your opt-in form. Make it easy. Use simple text. Ask for as little information as possible. Add a big, easy to click button. Finally, put it above the fold.
Did you know that the old "sidebar" forms don't really work optimally anymore?  It's good to have one but you need something more to "get in front of" the visitor more clearly.
3. Use the "Skyscraper Method"
The Skyscraper Method technique was developed by Brian Dean of Backlinko, and it's very simple and very effective.
Find the very best content in your niche
Figure out how to rework it, rewrite it, and make it BETTER
Post your new, improved, viral-ready and completely shareable link bait on your blog
Repeat
4. Help People Find What They Need
Even if you have a blog that is Shakespeare worthy in style and has the depth of Neil deGrasse Tyson explaining quasars, you're not going to get the traction you should be out of it if people struggle to find their way around.
Make sure your navigation is simple and intuitive, and place a search box in a prominent and easy to find place on every page.
5. Add A CTA to Every Post
If you don't get them to sign up before they read your post, make sure you catch them at the end, by including a call to action (CTA) inviting subscription at the end of your posts.
6. Add a Bounce Popup
Good salespeople never give up, and neither should your site. If your opt-in forms haven't captured their information, and your CTA fails, add a popup to your site that only appears when people are about to leave without signing up.
Chances are, most visitors who leave won't come back soon, so you have nothing to lose by disrupting them, and asking them to subscribe.
7. Ask Often and Clearly
Most internet users aren't sure what they are supposed to do next when they land on most sites. Ask them to take action is often all that's required. Once they're on your list, you've succeeded in the first step in email marketing and relationship building.
Don't let your hard work blogging go to waste. Turn your business blog into a marketing machine!  Ready to try a Waftio pop-up or widget?