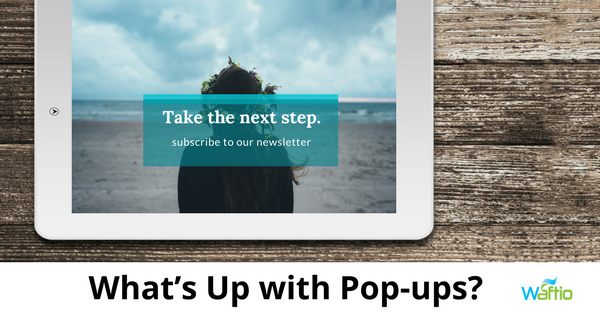 Popups have been around in several forms throughout the years. Abuse early on in Internet history has given them a bad reputation. However, they have some strategic use when you know how to implement them appropriately they also have some drawbacks. So think carefully before you add them to an advertising campaign.
The Good Side of Popups
Popups give you a way to highlight important information you want to make sure all of your visitors see. For example, if you have a time-sensitive promotion, you can use an interstitial (pop-up) to alert new visitors.
Depending on what country you're in you may need to show notices for your cookie and privacy policy. A pop-up can act as a way to get notify people visiting your site, rather than hoping they see the agreement button in the header or footer.
Another strategy that works well is using popups as email newsletter subscription forms. When triggered to pop up as people exit the website, these forms are incredibly successful in attracting new subscribers.
The Dark Side of Popups
Google is penalizing websites whose popups negatively impacts user experience, particularly for mobile audiences. Search engine rank is so competitive this move could make it difficult for sites that want to use popups.
There are 3 types of mobile popups that will get you a penalty.
Lightbox style popups show up as an overlay but blur out the content underneath.
Scrolling popups require moving down the screen to dismiss it.
Full-screen popups are no-nos under this algorithm.
Popups have a place in your website marketing campaign, but you have to be aware of their best practices and adhere to them. For example, making it easy to dismiss the popup and targeting specific users, so the popup doesn't show all the time. Using these 2 techniques will not impede the user experience.
Bottomline
Popups can be an intrusive experience, or they can be a valuable method for driving leads and engagement. Use them carefully and make sure you follow all of Google's requirements.