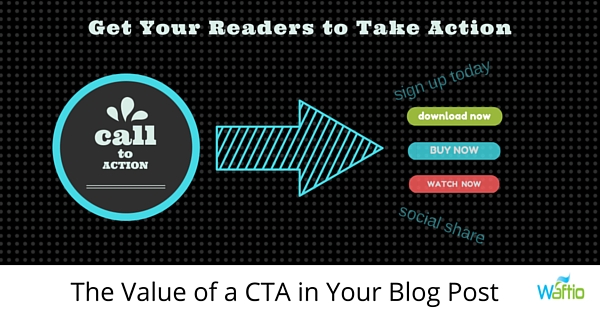 Blogging is one of the best strategies you can use to communicate and interact with your online audience. Content management systems like WordPress make it easy to create a blog. As you use the blog to market your products and services, it's crucial to include a CTA (call to action) within each post.
Without a CTA to motivate your readers into taking the action you want them to take, your readers won't take any action at all. It's simply information on the web.  You need to guide your readers to take the action you desire!
Here's what a CTA can do for your blog:
Increase Web Traffic
Websites that get lots of traffic rank higher in the major search engines. This, in turn, makes the site more readily available (higher in search results) to those doing searches. The key is to include a link to the website product/service page in your CTA. It will help channel traffic from your blog to the site, increasing the success of your online marketing campaigns and your popularity.
Example of a form embedded in a blog post:
Get the Reader to Read More Content
One of the best ways to convert traffic is with quality content that makes the reader stay on your website. Adding a call to action of related articles to your blog posts will invite readers to read your other posts. All you have to do is link to the related topics using keywords. For instance, the keyword "online marketing" can be linked to other articles on social media marketing, website marketing or email marketing within the blog post.
A simple and clear way to do this is with a titled area "Related Content" and then have a bulleted list with keyword titles linking to other articles on your blog or website.
Increase Chances of the Post Being Shared on Social Media
There are over 2 billion active social media users in the world today. Use social media to market your products and services. Because posting links to your blog posts on social media isn't enough, you'll need go a step further. Include social sharing buttons on your posts as your CTA at the end of all blog posts. Readers will be able to share the posts easily by just clicking on these buttons.
Add More Readers to your Email List
Email marketing is a powerful strategy to generate sales. Use a CTA to get your website readers to subscribe to your email newsletter. One of the best ways to tempt people to subscribe is by giving discounts or access to premium content in exchange for them signing up. For example, if your blog post focuses on photography, you could offer a free eBook with tips about photography to readers who provide their email address.
Finally, the CTA should be action-oriented, brief, clear, and easy to locate. Readers should be able to see it from a distance, but it shouldn't be so large that it diverts attention from the main content. More importantly, it should be in an easy-to-find spot on the blog.   Try different ones including sidebar CTA's, in-page CTA's, and pop-up CTA's.
Save
Save