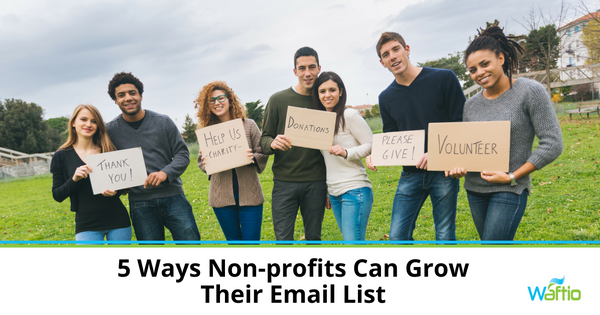 Time and again, it's been proven that email lists are effective marketing tools. A targeted list can get people back on your website, share news, and grow your volunteer and donor base. It's a way to stay in touch, stay top-of-mind, and build trust. If you're still wondering how you can start building or grow a non-profit email list, read on!
We've got 5 simple, actionable steps you can take to grow your email list!
1. Put a Form on Every Web Page
Make it as simple as possible for people to sign up for your email list. Place your signup forms high on your page, above the fold if possible, and put one on every page. The goal is to make them as easy as possible to find because most visitors won't search for them.  One great way to do this is with a pop-up box or widget, using a tool like Waftio.
2. Create a Great Offer
Sometimes, just receiving your newsletter is not enough of an incentive. If your subscriptions are falling, creating a free download to entice people to sign up can make all the difference. A report, short e-book or even a free learning series can encourage people to sign up. Figure out what that incentive is and use it!
3. Encourage Sharing
If you're like most non-profits, you already have a network of volunteers and employees. Ask them to sign up for your newsletter, and share your emails with their network. There's a reason why networking is such a powerful marketing tool. Even if you have a small group of followers now and each of them shares your message with 10 friends, you could reach hundreds or even thousands of people!
4. Market Your Newsletter Everywhere
Don't stop at a subscription form on your website. Mention your newsletter on your email signature and letterhead. Share it on your social channels, and advertise it at real world events. The more you talk about your newsletter, the more subscriptions you'll get.
5. Send Great Newsletters
The final step is also the most important: make sure that once you have all those email addresses, you use them wisely. Send out regular (but not super frequent), interesting and valuable newsletters that your list will look forward too. That will increase their engagement with your cause.
Your non-profit email list can be a great asset to your organization. If you don't already make the most of it, we hope these tips will help you. And to help your non-profit be successful with lead generation we're offering a discount on Waftio. Use the code 50offplans and you'll receive 50% off either plan for 3 months.