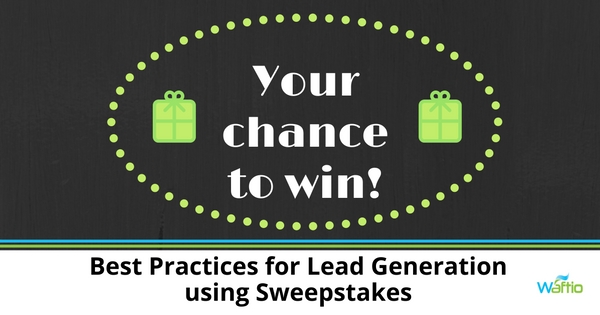 People like free stuff.  They do!
Whether it's as simple as movie tickets to the latest blockbuster or as grand as an all-expense paid trip to the Caribbean. It's for this reason why sweepstakes have always been a go-to method for marketers when it comes to generating buzz.
There's nothing quite like a giveaway to get people engaged, make them click on like, write a comment, share a post, follow a page, subscribe to a newsletter, and sometimes even create their own content.
But it isn't only a buzz that sweepstakes can generate. Contests generate leads as well, which isn't a surprise considering the lengths people are willing to go to just nab an interesting prize.
Of course, the big question is whether you'll get relevant leads that end in conversions — and not just casual passersby hoping to win (and with no intention of coming back again).
To make sure you get high-quality leads here are some best practices for lead generation using sweepstakes:
Give Away a Gift Certificate for your Products or Services
A cash prize will get lots of signups via your opt-in form. You can bet that most of them will unsubscribe once the contest is over. People are always interested in money even if they're not interested in your business. By giving away a gift certificate for your products or services, those who'll join are interested in what your business can offer.
Keep your Prizes Reasonable
If it's too good to be true, then people will think your contest is a scam designed to harvest personal information for malicious purposes. Even if you can afford to give away a huge freebie, make your prizes tempting yet still believable. Like a $50 voucher to be used for your products or services.
Save the grand prizes for special occasions, like your business's milestone anniversary.
Make Participants Work for it a Bit
Most sweepstakes just ask for a name and email address. Aside from being no fun at all, this can turn away great leads. They may think they don't stand a chance to win (and can't be bothered to join at all).
To get genuinely interested participants, make people exert a bit of effort before they can join. Ask them to fill out a survey or give a creative answer to a question. You'll be able to filter out the non-relevant leads, and also get information from relevant leads. Just make sure your prize is worth the extra effort.
Allow Social Sharing for More Chances of Winning
People will be willing to share your sweepstakes with their networks if you give them referral incentives. Such as additional entries for every signup they get through their referral link.
Without this option, participants might not tell others about your contest in an attempt to keep the competition pool small. Fewer joiners mean higher chances of winning, after all. But with the assurance of added entries per share, they'll have a reason to spread the word.
When it comes to sweepstakes for lead generation, everyone's a winner — your business included. As long as you know how to do it right.  Plan your contests well and you may come out with the top prize of high-quality leads.