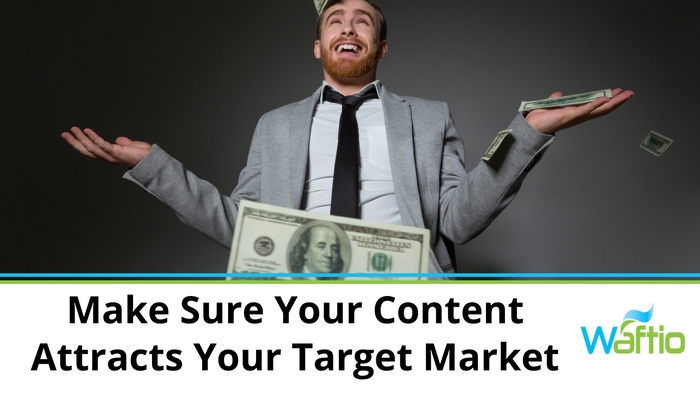 The first step to attracting your target market with content is knowing what they want. If you can't give them what they're looking for, they have no reason to go to your site.
But how? Here's how you can know what your target market is craving:
Create buyer personas.

Before knowing what your target market wants, you've got to know what you want first and foremost. To identify your ideal buyer, create profiles and make them as detailed as you can. Let's say you have a travel agency. Are you targeting millennials who want to spend on budget travel? Or do you want to attract retirees who are ready to splurge on cruises? You decide.

Go where they go.

Visit the forums and online groups where your target market hang out. You'll find what hot topics they're talking about and what problems they're experiencing. If you can offer a solution, then voila! Instant subject for your next content!

Check out the competition.

Unless you're in a unique niche, chances are there are more successful players in your chosen industry. So take a look at the content they post and figure out what's popular and what isn't. This isn't about copying — it's about determining trends.

Ask for input.

The comments section of your blog or social media page is a place for engagement, so make use of it. Invite users to share their opinions, feedback, suggestions, and even criticism. When you listen to your target market, you'll be better equipped to address their needs.

Make content interactive.

Questionnaires, quizzes, and surveys are content in themselves if you present them well. At the same time, they serve as tools to collect information from your target market.

Explore more than text content.

Many people are on their tablets or smartphones, so you've got to consider optimization for mobile devices when creating content. Make content suitable for mobile by using subheadings, photos, and other visual dividers. Better yet, present content in a visual format like infographics, posters, or even short video clips.  Video is getting great attention for good reason.  People DO watch short videos!

Share in strategic cycles.

No matter how awesome your content is, it won't get the attention it deserves without promoting it. Fortunately, there are many channels you can go through. You can share links to your content on your social media pages, ask family and friends to share it, tap influencers within your niche (and hope they like your content enough to share it with their many followers), or pay for sponsored posts. The great thing about advertising on social media is that you can work with a small budget, unlike with traditional media such as radio, print, or TV.
These steps won't guarantee virality, but they can guarantee you a solid following — as long as you are consistent. People, regardless of their interests, want a regular source of reliable information. This is how loyalty forms. Once you create a relationship with your target, focus on sustaining the ties by always delivering content they enjoy.