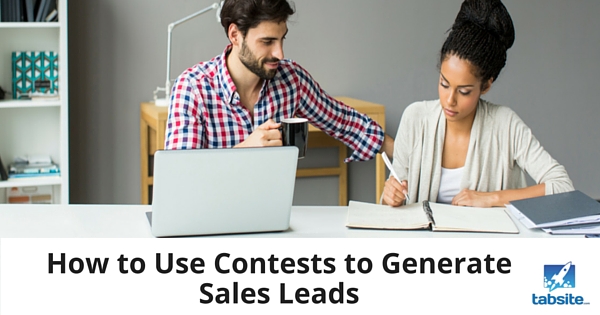 Marketing is important to every business. But its importance is more critical to start-ups and small businesses looking to increase sales. How do you get your company's name out there and generate sales leads? Here's a great way that utilizes the power of the web, incorporate contests into your marketing plan to spread your company name and help boost sales!
Where should your contest be held? Online using your website and Social Media!
Photo Contests
A picture is worth a thousand words and used properly can generate sales and reach more potential clients. Hold a social media photo contest. Ask your followers to post a picture of themselves with your product, and the image with the most votes wins. It's a creative, easy, and fun way to get your customers engaged with your brand and get your name out to all of their friends.
It's easy to run Facebook contests with Tabsite. TabSite allows you to easily create and manage custom apps and run promos on your website, blog and Facebook Pages. Users can add multiple custom apps and offer deals, contests, and more. TabSite offers both easy setup apps and a Drag N Build system for pixel perfect design without coding or programming. Powerful features include the ability to run Sweepstakes, showcase your YouTube Videos, add product slideshows, run Photo and Video Contests, share your Instagram feed on your Facebook Page, and more!
"Most Creative Idea"
This is a great way to get your creative juices flowing and incorporate your business's individuality into your contests. The idea here is to encourage your Facebook fans to leave their own creative ideas in response to a question and the comment with the most "likes" winning a prize.
A good example for this (let's say you are a pizza shop owner) is to post a status asking followers to come up with the most unique pizza topping combination. The person posting who gets the most "likes" wins and is then able to come get a free pizza. It keeps the winner happy and increases your brand name awareness. The end result? Hopefully a boost in sales. This is called a "Timeline Contest" that runs in the Facebook News Feed.
The Guessing Game
This can be custom tailored to fit your company, or whatever mood you're in. Post a picture and ask followers to guess where it was taken. Something taken at odd angles or a different viewpoint will keep people's interest to find out what it is. Send the winner a prize and enjoy the benefits of increased sales and word of mouth publicity from the lucky customer.
Like and Share
Another popular social media contest is the "like and share" game. The idea is to get your name out there to generate sales leads and increase brand awareness. Offer a free product to the customer whose shared post gets the most "likes". It will result in contestants sharing your business page, and your company name will go out to all of their friends.
There are lots of ways to use contests to generate sales leads. It's a wonderful marketing strategy to spread your business name, earn loyal customers, and bring in sales leads while your clients have fun. Incorporate one of these ideas into your business and watch your revenue grow. No matter what you choose to do, a contest is a good way to make sure your business stays relevant in today's competitive environment.