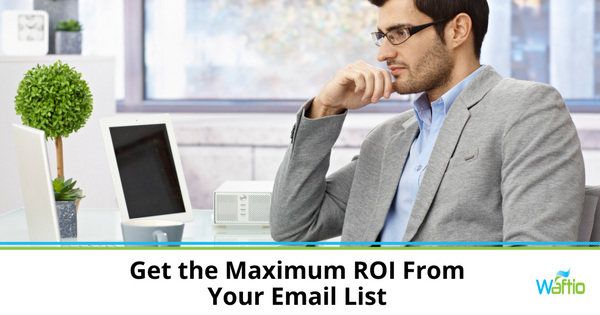 Email marketing has the potential to, directly and indirectly, improve your revenue and growth rate. However, you may not be getting the maximum ROI out of your efforts. Use these suggestions to optimize your strategy, find new ways to grow email lists, improve conversions and increase your brand awareness.
Improve Your Sign-Up Form
Don't skimp on your user experience. Put yourself in their shoes and go through the sign-up process. Is it clear what information the visitor needs to provide? Eliminate any ambiguity and find technical issues with your email subscription form before anyone uses it. Go short and simple!  Name and email are key and use a pop-up form to get more visibility.
Email Marketing Automation
Manually emailing your list might work when you have a few dozen people, but not when you have hundreds or thousands. Automate your workflow and scale your efforts no matter how many subscribers you have. Drip campaigns, transactional emails, and other triggered events can happen immediately upon subscription.
Give Subscribers a Signup Incentive
Want to give visitors a compelling reason to give you their email address? Put a signup incentive in place. The exact form takes depends on your industry and audience, but discounts for e-commerce shops and ebooks for B2B companies are 2 examples of ways to encourage interested parties to add their name to your list.
Keep It Simple
How much information do you ask from subscribers? For a basic B2C mailing list, stick with a name and email. In general, eliminate as many fields as possible to overcome any signup resistance.
Use Segmentation
Don't treat your email list like a one-size-fits-all entity. Align your email subscribers with your buyer personas, specific demographics, the form they filled out or other differentiating information. When you have a segmented list, you can customize the messages going out to these users. They get more relevant emails, and you get better opportunities for conversion.
Deliver Value
Are you giving subscribers emails that they look forward to reading? If they're ignoring your messages or rolling their eyes and sighing whenever you land in their inbox, you're not going to get much out of your email marketing efforts. Make sure the content you include is relevant, timely, and the value is clear to the subscriber. Ask yourself if you would be happy to receive this type of email in your own inbox.
What's your key next step from the above to improve your email marketing ROI?