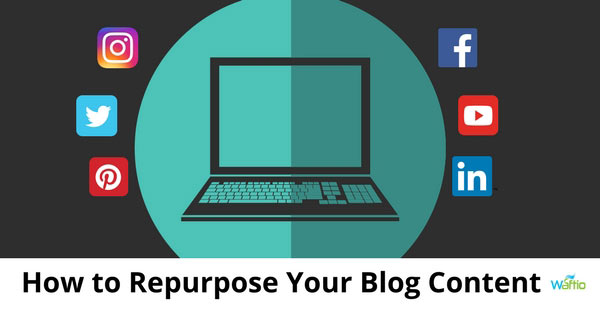 Are you getting the most out of your blog content? You spend hours on each post, researching information, looking up keywords, finding photos, creating graphics and all the other details that go into writing a  blog post. If all of that time and work goes into a single post, then you're throwing money out the window. Repurpose your blog content is one of the most efficient ways to use your resources.
Here are a few ideas to get you started on great ways to repurpose your blog content.
Create an Ebook
Chances are, you publish a lot of blog posts on the same topic. Therefore, you can pull these posts together, write an introduction, and group them into full chapters. Your readers get a convenient way to consume a large amount of your content through one file, and you get a high-value asset to use as a lead magnet.
Syndicate Your Posts
Syndicate your high-quality blog posts. Reddit, StumbleUpon, Facebook & LinkedIn Groups, LinkedIn Publishing, Medium,  and Scoop are great networks for syndicating. These networks can get more traffic to your website. Websites for press releases and news sites are two good sources for syndicating your blog content.
Leverage Social Media
Think beyond Facebook, Twitter, and other general purpose social media sites. You can share links to your blog posts, with a summary, on niche social media communities. For example, you can find sites that cover pretty much any subject, and if all else fails, the massive social media site Reddit will have a community (subreddit) that tackles the topic. Make sure to read the rules for each network as they may have a strict process in place for self-promotion.
Create Infographics
Does your blog post have short, sweet snippets of information and data points? Leverage this formatting for infographics that add visual appeal to your content. Create shareable infographics that are well suited to embed on other websites and social media profiles.
Develop Content Upgrades
Some blog post types work well for different formats, such as a transcript for a podcast post. Hence, these content upgrades can be attached to the post, expanding the information available or presenting it in a different form. Don't forget to collect the reader's email address to add to your mailing list.
Maximize your ROI by repurposing your blog post content. When you think outside the box, you can come up with dozens of repurposing ideas for your content marketing strategy.