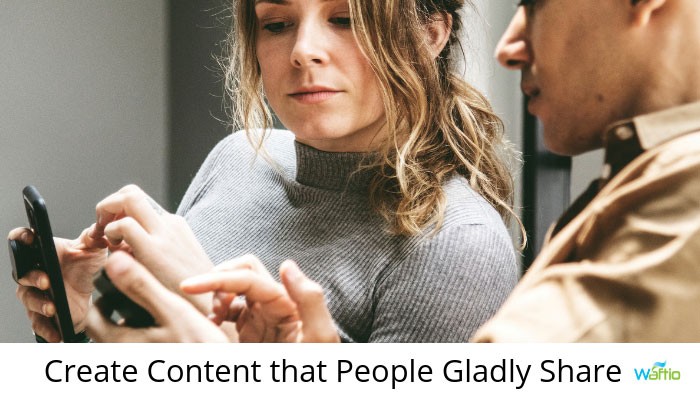 The internet is saturated with content. According to data from Smart Insights, 1,440 blogs are posted every minute, translating to a whopping 2,073,600 blogs every day. That's before you account for videos and social media posts. This level of saturation presents a new problem for content marketers – difficulty attaining the desired reach.
One way to get around this problem is to pursue sharability i.e. making your content highly shareable.
Look at it this way; if 1,000 visitors read your content and share it with their network (say 30 people per reader), your blog post would have already reached 1,000 + (1,000*30) = 31,000 people. Considering that digital consumers highly trust each other (70% will read posts recommended by fellow consumers compared to those promoted by brands), you can expect to reach a lot more people than you would through direct reach.
Wondering how to create content readers will like and want to share? The following are five tips to get you started.
Understand Your Target Audience
Many marketers begin writing articles and blog posts without even understanding the people these content pieces are meant for. How do you expect to write what they want to read if you don't understand them? How are you going to address their pain points if you haven't taken the time to learn about their needs? It's impractical. Begin by learning the; who, why, what, when, and where of your readers.
Who are they?
Why are they online?
What do they need?
When do they need it?
Where do they get their information?
If you can successfully answer all these questions, you're ready to create content your audience will like.
Choose Value-Adding Topics
Now that you fully understand your audience, it's time to choose topics to write about. Ensure that the topics you choose add value to the reader's life. If you're not solving a problem, tell them something new; something they haven't heard before. "How To…" topics are some of the most shared posts for this reason – they actually solve a problem.
Other commonly shared topics include; "X Tips," guides, and checklists. Aside from that, content that provides new information is also highly appreciated and frequently shared.
Present Your Content in the Right Format
The content type you choose will directly determine your reach.
Videos, for instance, are on the rise. But, is your audience looking for videos? Do they frequently watch YouTube and the likes? If not, then expecting them to like and share your videos is a pipe dream. Webinars are also very effective and come with a high ROI. But not all audiences are looking for webinars. A consumer looking to buy a pair of shorts online, for instance, won't be interested in a webinar.
The idea is to choose a content type that fits both the message and the audience.
Optimize Your Posts for Sharing
Yes, you can make your content easier to share. How? By including features on your blog, website, or video channels that reduce the effort needed to share the posts. With blogs, for instance, you can include social share buttons to allow readers to share the content they like in a single touch of a click. Certain types of content such as industry reports can even carry these social share buttons within the content body.
Finally, with certain content types such as videos and infographics, you can include embed codes to allow other website owners to share the content on their blogs.
Oh, and don't forget to ask for shares. Readers are 150% more likely to share your posts if you personally ask for the share.