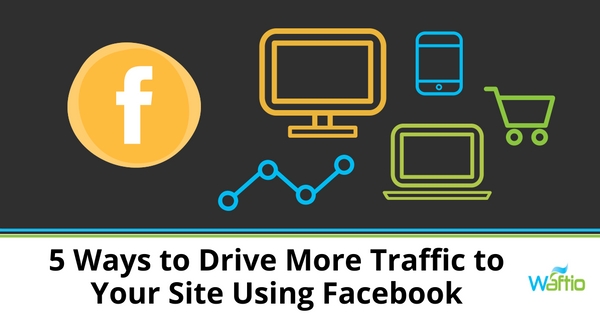 Facebook is a valuable marketing tool with the vast number of monthly active users well over 1.5 billion.  As well, the time spent by users per day is now averaging 40+ minutes! However, Facebook is changing and what worked before for marketers is not the same as a few months ago!
In particular, you should be concerned with Facebook's news feed algorithm changes. Recently Facebook announced that it's de-emphasizing the reach Facebook Business Pages will have in the News Feed. Why? Because many Pages tend to be more or less static, and they don't offer new content. Facebook wants to keep users engaged and they see users engage with content from friends.  In particular, Facebook has identified that users like video and images, and so businesses need to be aware and make shifts!
5 Ways to Drive More Traffic to Your Site Using Facebook
1. Keep up a Steady Stream of Relevant Updates on Facebook
On your Facebook Page feed, regular updates are precisely the kind of fresh content that social media seems to favor these days. The sum effect is that Facebook will rate your Page higher in your visitors' feeds if you're posting good content regularly or semi-regularly. As noted, Facebook wants to see more video and Live Video.  By incorporating these type of posts in your weekly routine you can increase your reach.
2. Use Facebook's Ad System
This may not be the news you want to know, but it's important to hear.  You can get in front of the right people on Facebook, but to do so well you need to pay to get in front of them. Do not be put off by this.  Facebook Ads are affordable and it is a great way to reach your ideal target audience and drive traffic to key content and lead capture options on your website.
3. Pay Attention to the Elements of Your Content
Use best practices to maximize the reach of your content. For example – always use larger images, at least 1200×630. Vibrant images capture the attention more easily and fill the news feed space. People are always seemingly pressed for time, so keep your character count short while still conveying the full message – get to the meat quickly.
And when you can manage it (and when it makes sense), include a link to more content on your website to drive traffic to a specific page with a soft lead capture option.
4. Make Sure to Hyperlink to Your Best Web Pages
This is one of the most important ways to create more engagement. Facebook's algorithm judges your social platform, in part, on how many people click through to your website. This means you have to catch their attention and make them want to read the rest.
5. Share Snippets of Your Blog Posts
This works if your blog posts are worth reading. Sharing a snippet doesn't necessarily mean sharing text. It could be a snippet you share via a video you made. But only give them a sneak peak so that they're compelled to finish the rest of it on your website.
It's a fact that Facebook can be a driver of traffic if you stay current and use the latest techniques.  Once you drive traffic to your site, be sure to have a clear call-to-action to invite visitors to sign-up for your email list in exchange for some offer of value.  Your email marketing is a great next-step to nurture the fan into a customer!
Save