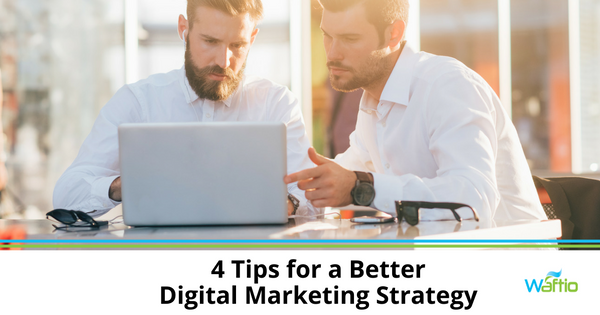 As a small business owner, you know how important digital marketing is to you and the growth of your company. Digital marketing is the use of tech for promotional purposes. If you want to establish a thriving, recognizable brand, then making use of these techniques is a must.
Today, it's almost impossible to find a company not using photographs, social media, and websites to spread the word about their brand. However, even though you use these digital strategies, you may not have the results other, more successful businesses get.
The question is, what are you doing wrong?
Maybe nothing.
In many cases, success is only a matter of redefining and tweaking your strategy. Use the tips to enhance the digital marketing strategies you have in place:
1. Define Your Goals
The problem of visible results may relate to the goals you have for your digital marketing strategy.
There are three key elements to an effective strategy:
Make sure you're realistic.
Make sure you're specific.
Keep an optimistic outlook.
While the mission statement of your business may read "keep growing the business effectively," you need goals that are better defined. The goals you set can relate to reaching a certain number in sales for a quarter or to increase traffic to your website.
2. Put a Priority on Mobile Optimization
If you have yet to recognize the importance of a mobile website, it's in your best interest to hop on board right away.
The number of mobile devices has increased steadily over the past few years. As a result, the number of mobile sales has surpassed that of desktops. If you don't have a site that's mobile friendly, you're basically asking your customers to go to your competition.
Don't worry, you don't have to invest large amounts of money into this effort, but it's a good idea to guarantee your website is mobile friendly/responsive.
3. Make Sure Your Business is Social
Even if you have made the decision not to engage on social media platforms personally, your business still needs a presence. The fact is, tons of potential customers are using social sites. Facebook alone has 1.49 billion users.
Make sure you take some time to figure out where your audience is. For example, interior designers likely want to target sites such as Pinterest and Facebook, while those selling business outreach services may find better results on LinkedIn.
4. Track Website Analytics to See What Works
You can't determine the effectiveness of your digital marketing efforts by looking at ROI alone.
Some of the other factors you must consider include:
The traffic – has it increased or decreased?
What percentage of traffic is organic vs. referral based?
How long do visitors stay on your landing/blog/video pages?
How many shares or views does your content have?
How many calls-to-action and clicks does your site receive?
When you take the time to create a digital marketing strategy that implements these tips, you'll find success for your business. Consistency and creating a clear plan is essential.