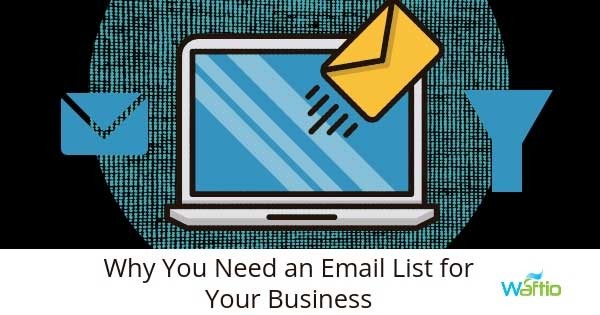 Successful small businesses use email as part of their digital marketing strategy, that's a fact. It's low cost, has a limitless reach and a high return on investment.
A small business can't really run a digital marketing campaign without an email list. It's similar to going to battle without your artillery. Save for a miracle, you're never winning that fight.
Here are just a few reasons why an email list is crucial for any successful business.
Besides Your Website, it's the Only Marketing Tool you Own
Think about it for a minute. A digital marketer depends on several tools to run a successful sales campaign. These include search engines and social media networks.
Have you ever thought that you don't own these tools? If Facebook feels like it, they could suspend your account or close it altogether? Google has done it many times, same with Twitter.
The only two items you really own are your website and the email list. They are the only two things no one can take from you. Do everything in your power to guard them.
A Properly-Maintained Email List Makes Marketing Easy and Cost-Effective
The average SMB spends $75,000 on digital marketing, or just over $214,000 on marketing yearly, representing up to 12% of revenue. A solid email list can significantly reduce these costs as well as simplify the marketing process.
Here's why. Email is the king of business communication. According to Exact Target, 46% of consumers prefer emails, 36% prefer text, and only 13% prefer social media. And sending email is extremely affordable even if you hire a specialist. And email providers charge peanuts for their services. AWeber, for instance, charges $30/month.
Above all, with an email list, you have a sales-ready market. You're not making cold calls. Put these factors together and you'll see the high ROI potential of a great email list.
Email has the Potential to Become a Large Part of Your Income
You might not believe it, but there are people out there who make quite a bit of money on their email lists.
Michael Hyatt is the perfect example. An award-winning author of a best-selling book, Michael openly says that his email list is his biggest asset. "It is my number one business priority and asset," he says.  "This multi-million dollar business wouldn't have come to be without my email list. The list accounts for 90% of my income."
A strong email list can become a key source of revenue for you too.
So, Grow Your List to Grow Your Business
When your email list expands, your business grows. Why? Because you're adding more sales-ready leads to the funnel!